The need to convert design files from Adobe XD to Figma is a must among designers, especially given the rising popularity of Figma as a design tool. Although there are manual ways to accomplish this task, it often requires more time and effort and may result in a loss of data or design elements. Thankfully, with tools like Magicul, the conversion process becomes a breeze. In this tutorial, we'll walk you through the safe, simple, and seamless process of converting your Adobe XD files to Figma using Magicul.  
Stay tuned as we show you how to easily convert your files, making your design workflow more flexible and efficient.
Step 1: Prepare Your Adobe XD File
Begin by having your Adobe XD file ready for conversion. Ensure that the design is complete and saved on your computer.
Step 2: Access the Conversion Tool
Head over to the conversion tool's webpage where you'll be uploading your Adobe XD file.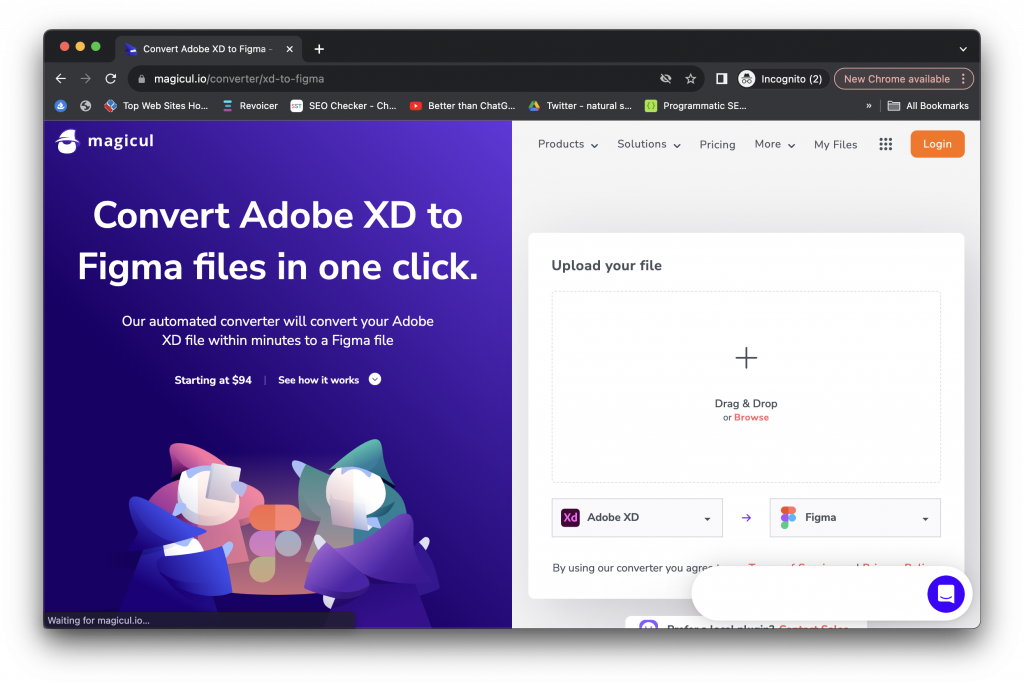 Step 3: Upload Your Adobe XD File
Locate the upload section on the webpage. Drag and drop your Adobe XD file into the designated area, or browse your computer to select the file. Input your email address as prompted, then click on the upload button to proceed.
Step 4: Preview and Convert
Once your file has been uploaded, you'll see a preview of your design file in the top section of the webpage. Below the preview, find and click on the "Convert Now" button.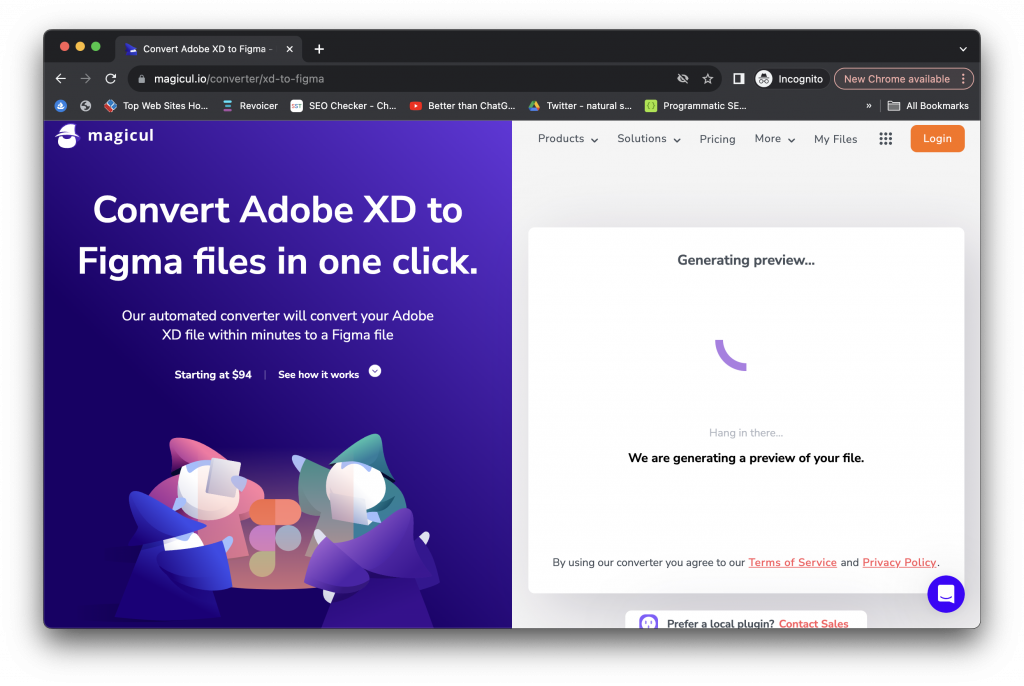 Step 5: Complete the Payment Process
A payment option will appear. Complete the necessary payment details to proceed with the conversion. The converter will automatically start working on your file once the payment is processed. You'll be able to see the progress of the conversion on the screen. For more details on fees, check the pricing page.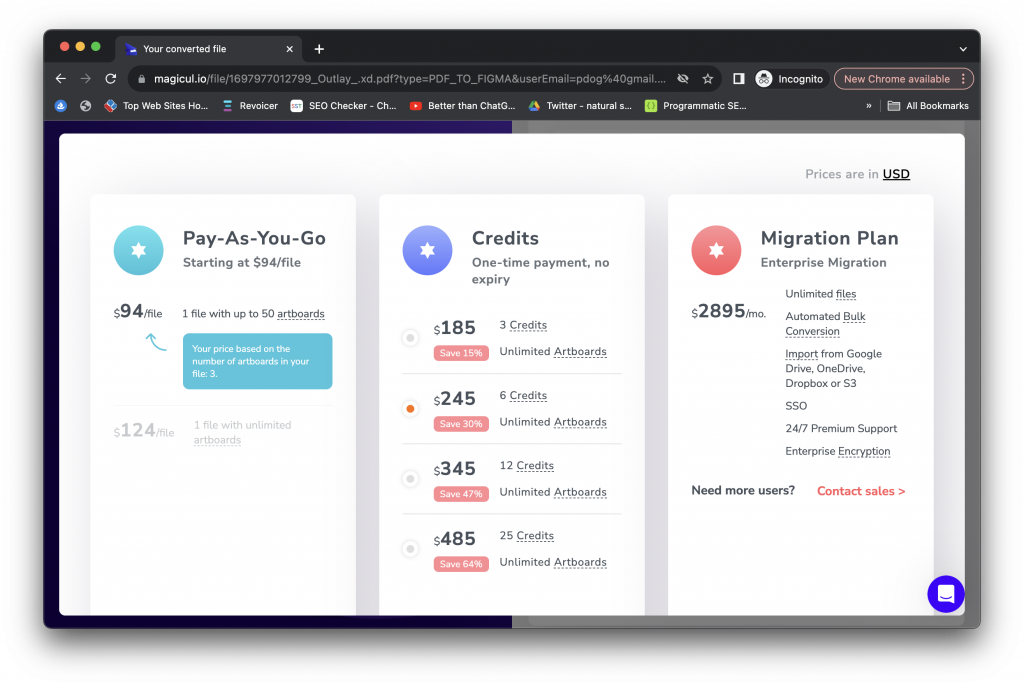 Step 6: Download the Converted File
After the conversion is successfully completed, a download link will appear. Click on the link to download the converted file, which will now be in a format compatible with Figma.
Step 7: Import into Figma
Head over to Figma's website. Locate and click on the 'Import' option in Figma. Drag and drop the downloaded file, or browse your computer to select and open the file. The import process will commence, and once completed, your Adobe XD design will be accessible and open to edit within Figma.
Step 8: Review the Conversion
Take some time to review the conversion by checking the layer structures, components, and other elements. You want to be sure they have converted accurately. You can now continue working on your design in Figma, enjoying a seamless transition from Adobe XD. For further assistance, visit the help page or explore other tutorials on the Magicul website.
Frequently Asked Questions
Can I Convert Adobe XD file to Figma?
Yes, you can convert Adobe XD files to Figma using a conversion tool like Magicul. It simplifies the process and retains the design elements and layers.
Are there other methods apart from using Magicul?
Yes, you could also manually export assets from Adobe XD and then import them into Figma, though this method may be more time-consuming and could potentially result in a loss of data.
Is XD being Phased Out?
Adobe XD is no longer available for purchase as a single application but will continue to be supported for existing users. XD will continue to be available as part of the Adobe Creative Cloud All Apps subscription.
Why was Adobe XD discontinued?
The Adobe XD design tool failed to gain as much traction as Figma's, possiy because Adobe never put as much effort into developing it as they have with their other products.
Is it easy to move designs from XD to Figma?
It depends on what you define as "easy." There isn't a singular tool or an out-of-the-box XD plugin that perfectly exports all of your designs to Figma. There's a certain level of manual work you need to do, regardless of how you approach the task.
How can I make the transition smoother?
Start with a well-organized design system. Additionally, using a conversion tool like Magicul can greatly streamline the process, minimizing the manual work required.
Where can I find more resources to assist in the transition?
You can explore tutorials on Magicul's website or visit their help page for more guidance on transitioning from Adobe XD to Figma.