TLDR: Head over to https://monocle.magicul.io and try it out yourself.
It seems like a very straightforward tasks. What if you want to share only certain pages of a Figma designs with shareholders or developers?
Unfortunately Figma currently only allows you to generate a unified sharing like which will automatically grant all viewers access to all pages in your Figma design.
We were initially inspired by an ongoing thread in the Figma forum and then decided to look into finding a solution that would allow Figma users to share specific pages and not just entire designs.
The Figma forum thread has over 850 upvotes at the time of this writing: https://forum.figma.com/t/giving-unique-access-to-specific-pages/455
Why do you need to share only certain pages of a Figma design?
The use-case for this are pretty obvious:
Share only specific pages of a Figma design during developer handoff
Share only specific pages of a Figma design with shareholders for approval
You don't want certain colleagues to see certain screens just yet
… the list can probably go on and on!
How can you share only specific pages of a Figma Design?
So here's the solution we came up with over the past few days:
Designers can simply generate a new unique share link for each Figma design. Using a separate admin link they can configure which Figma pages will be displayed or hidden. Designers can then share a new "View Only Link" with their team or colleagues, which will only contain the pages they have configured be visible.
Here's how the dashboard looks like in action: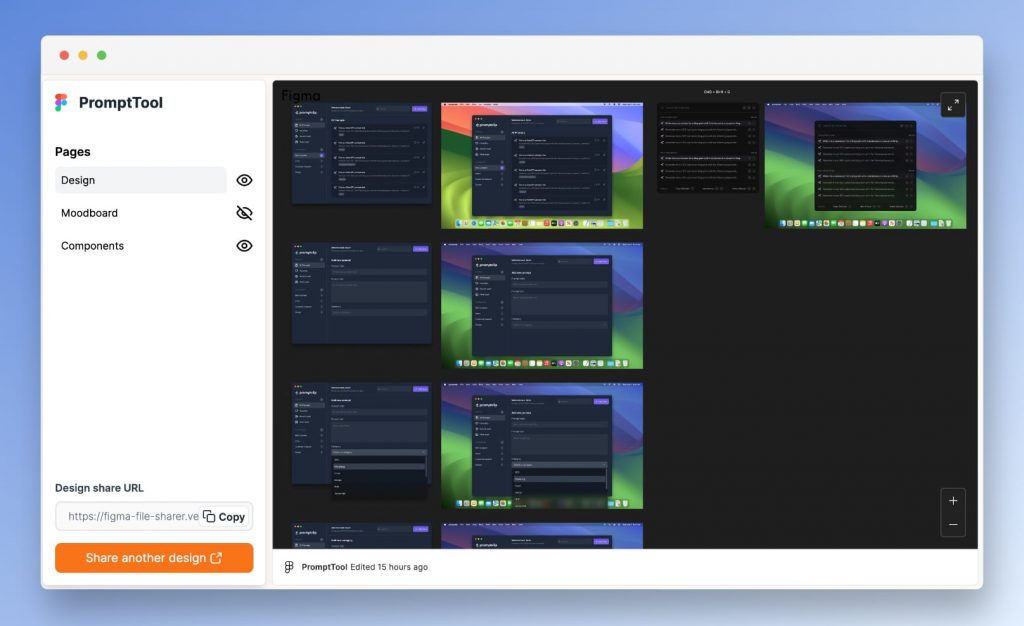 Changes in your design are automatically updated in the tool, so there's no need to re-create a new share link every time you make changes.
Once you've generated your first "Share Link" we will automatically send you an admin link which allows you to later edit which pages are visible and which pages aren't.
Create a sharable Figma like only for a few page
In order to create your new shareable Figma URL simply head over to our tool:
And then enter your email address and a link to your Figma designs.
Note: As of right now the Figma design needs to be viewable publicly.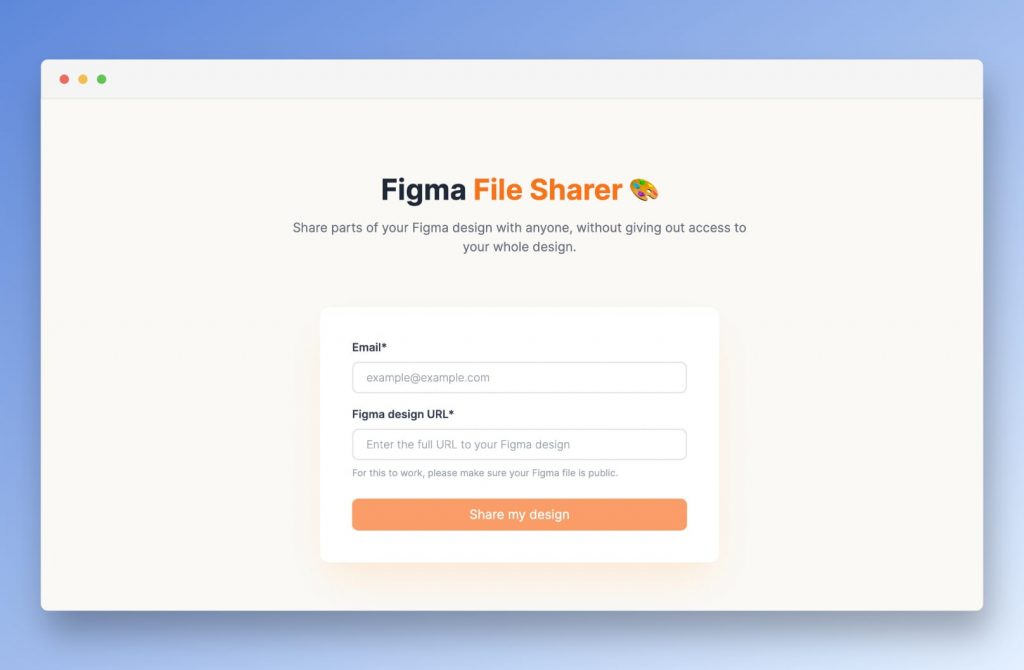 After you click on "Share my design", you'll be redirected to the edit mode where you can specify which pages will be visible and which will be hidden.
The left hand panel will list out all the pages in your Figma design. Simply hide certain by clicking on the "Eye" icon. The settings will be stored automatically, so there's no need to save at any given time.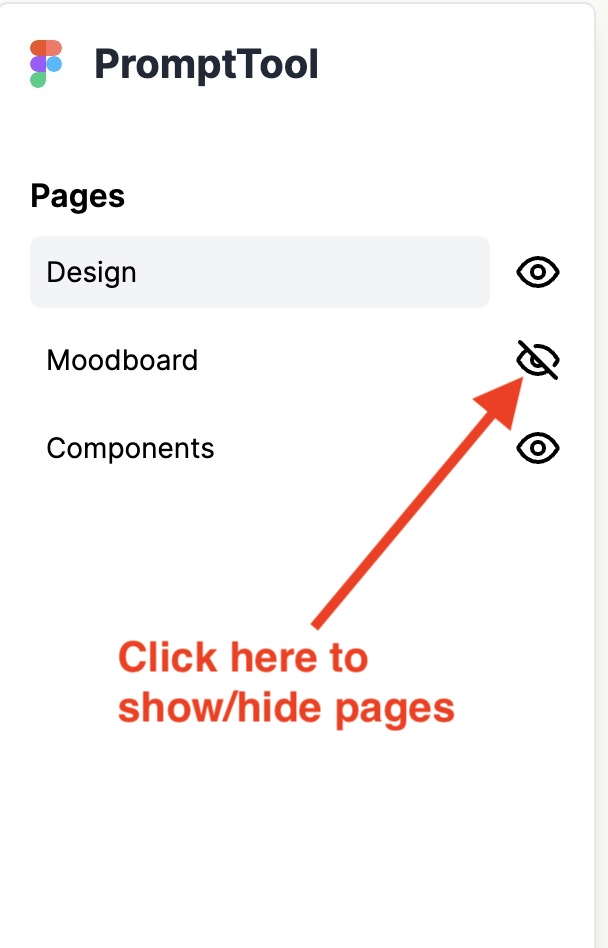 The tool should be very straightforward to use.
Once you've selected all the pages that you want to hide or display, click on the "Copy" button in the bottom left corner to copy your new sharable link.
You can now share that link with your team or clients to only give them limited access to certain pages in your Figma design.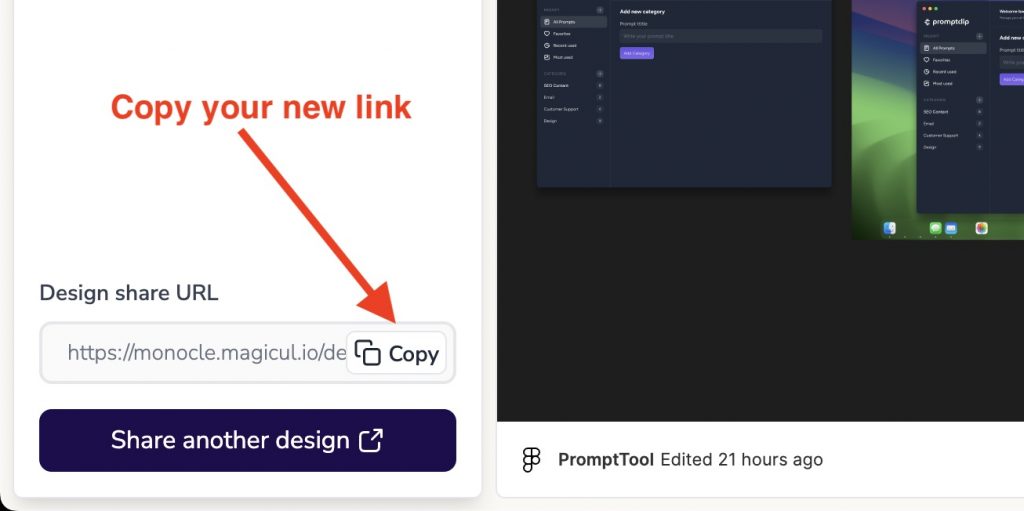 Magicul Monocle's Key Benefits
Selective Page Sharing in Figma
Ever felt the need to share just parts of your design? Magicul Monocle understands. This tool lets you pick and choose specific pages from your Figma designs to share. No more sharing everything; only share what's necessary. This is especially handy for those times when only selected pages are up for review or approval.
Always Updated Designs
Making last-minute changes to your design? No worries. With Magicul Monocle, any changes you make to your design are immediately reflected in the shared link. This means there's no need to keep generating a new share link with every tiny edit. It ensures your team or clients always see the most recent version.
Full Control with Admin Access
Want more control over what you've shared? Magicul Monocle provides it. Once you generate your main share link, you get an admin link. This link lets you adjust which pages are visible and which ones aren't, any time you wish. It's like having a remote control for your shared designs.
Simple and Clear User Experience
User-friendly is an understatement. Magicul Monocle's dashboard clearly lists all pages from your Figma design. With a simple click on the "Eye" icon, you can decide what to hide or show. This intuitive design means you spend less time figuring out the tool and more time on your actual design work.
Quick Shareable Link Generation
Once you've set which pages to show, generating a shareable link is a breeze. Just a click, and you have a unique link ready to be shared with your team, stakeholders, or clients. It's all about making the process seamless and efficient for you.
This list underscores how Magicul Monocle enhances your Figma experience by offering precise sharing and control functionalities.
We're looking forward to hear your feedback. If you have any other ideas on features we should add simply let us know in the support chat. We're only a quick click away.
Cheers,
The Magicul Team.
What is the primary feature of Magicul Monocle?
Magicul Monocle allows Figma users to share specific pages from their design, rather than the entire design, providing more selective and tailored sharing options.
If I make changes to my design, do I need to generate a new share link every time?
No. Magicul Monocle offers dynamic updates, meaning any changes you make to your design are automatically reflected in the shared link, eliminating the need for constant link regeneration.
How can I control or edit the visibility of shared pages after generating a link?
After creating the primary share link, Magicul Monocle sends an admin link that allows users to adjust the visibility settings of the pages at any time.
Is the user interface of Magicul Monocle easy to navigate?
Yes, the Magicul Monocle dashboard provides an intuitive interface, displaying all Figma design pages and letting users easily hide or show specific pages with a simple "Eye" icon click.