Here at Magicul, we're driven by a passion for empowering designers with efficient tools to save them time and optimize workflows. Today, we're excited to reveal our latest feature for the Figma Backup application: Support for Figma Branches. Especially Figma Organizational customers have been telling us about this feature and we've been working hard to add support for Branches. Your Figma data will now be fully secured including Figma branches.
Here's a quick sneak peak of how the interface look like now with Figma branches enabled in the Figma Backup tool: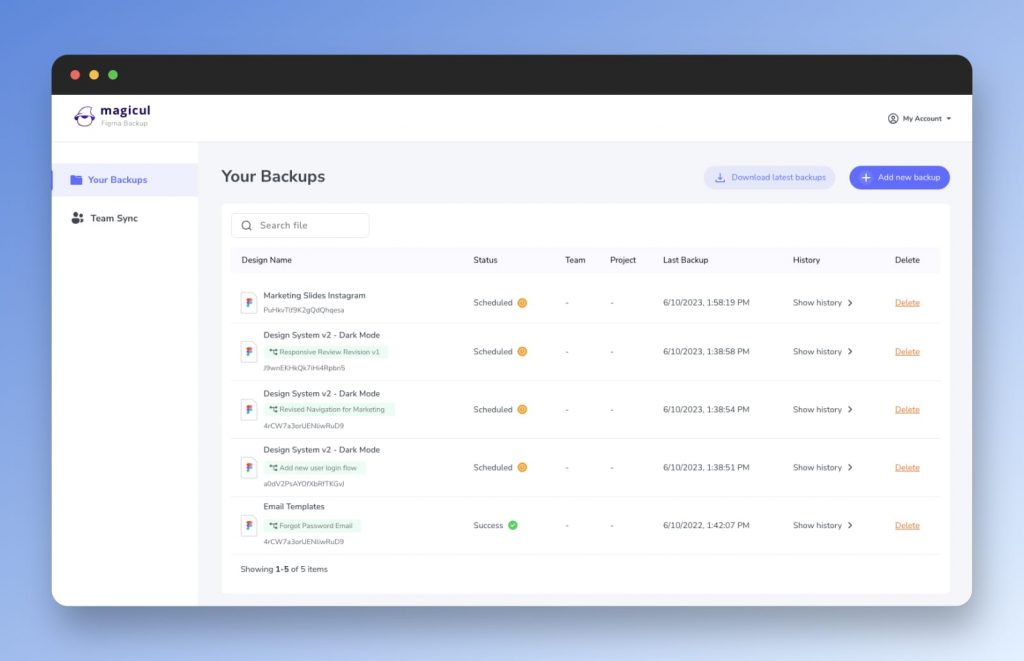 What are Figma Branches and How Do They Benefit Large Figma Organizations?
Branches in Figma are a significant feature of the Figma Organizational plan. They enable designers to create, review, and merge changes from different branches into the main file. All without disrupting the workflow of others.
In the context of larger organizations, the ability to work on separate branches is a game changer. It allows multiple designers to work simultaneously on different aspects of a project, while maintaining the original integrity of the main design file. It also enables side-by-side comparisons of changes. Reviewing changes has never been easier in Figma.
Once you've setup the Figma backup tool, every branch created will be automatically added to the Figma backup tool. This provides your organization with an additional layer of security throghout your design process.
Unveiling Support for Figma Branches in our Figma Backup Application
Once you begin using branches in your design process, our Figma Backup application automatically detects these branches and includes them in the backup procedure. This support continues until the branches are merged into the main file.
But the real magic happens even after the branches are merged. In the settings page you can define the file retention in days for your backups. This ensures that your backup files, including all the branches, continue to exist for the period defined by you.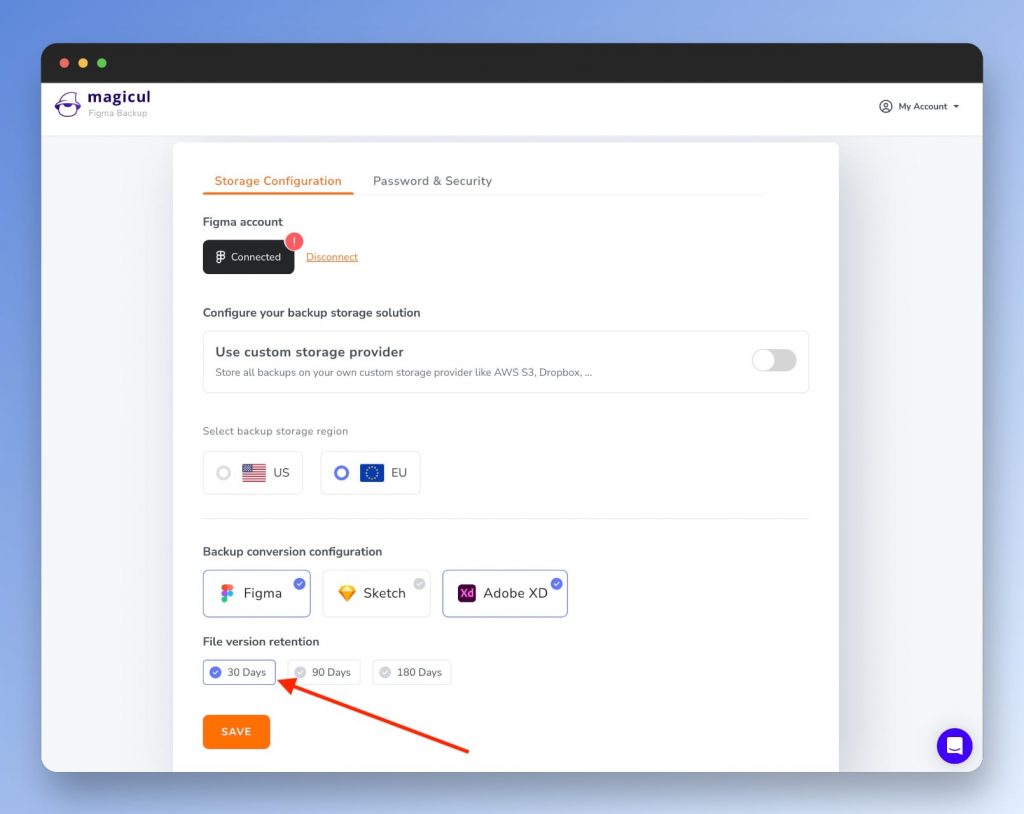 In other words, you now have full control over the retention of your design files. You can effortlessly track changes, revert to earlier designs, or maintain a record of your design evolution, regardless of how branches are manipulated over time.
We are thrilled about the possibilities that support for Figma Branches brings to your design workflow. We can't wait for you to try this feature and experience the enhanced control and convenience that it offers.
Stay tuned for more exciting updates from Magicul, and as always, happy designing!
Some More Figma Resources
How to Import Adobe Illustrator Files to Figma
If you use Adobe Illustrator and Figma, sometimes you might want to move your work from one to the other. We wrote a guide on how to do just that. In our guide, we show you each step to make this move easy. This way, your designs from Illustrator will look good in Figma too. It's helpful for anyone who wants to use both tools.
Ways to Get Google Slides into Figma
Presentations are important. Many people use Google Slides to make them. But what if you want to use those slides in Figma? We have a guide that teaches you three ways to do it. This helps you mix slides and designs together in Figma. It's great for people who want to show their ideas in a new way.
Top React Code Generators for Figma Designers
If you design in Figma and know about React, we have something for you. We found the five best tools that turn your Figma designs into React code. Our article talks about these tools. This makes it easier to turn your designs into real websites or apps. It's useful for designers who want to work with developers.
Moving from Figma to PowerPoint
Sometimes, you might want to show your Figma designs in a PowerPoint presentation. But how do you do that? We made a guide to help. It explains each step to take your designs from Figma and put them into a PowerPoint slide. This is good for people who want to share their work in meetings or with teams using PowerPoint.
Using Canva Designs in Figma without Plugins
Canva has lots of great designs. What if you want to use those in Figma? We found a way, and you don't need any extra tools or plugins. In our article, we show you how to put Canva designs right into Figma. This tip is great for anyone who loves both Canva and Figma and wants to use them together.
Can I import Adobe Illustrator designs into Figma?
Yes, you can. Our guide provides a step-by-step process to seamlessly move your designs from Illustrator to Figma.
Is there a way to use Google Slides presentations within Figma?
Absolutely! Our article offers three methods to integrate your Google Slides into Figma, enhancing your presentation capabilities.
Can Figma designs be exported to PowerPoint?
Yes, they can. Check out our resources which detail the process of taking your Figma designs and showcasing them in a PowerPoint presentation.
How can I use designs from Canva in Figma without using plugins?
It's quite straightforward. Our Magicul tutorials show you how to seamlessly embed Canva designs into Figma without needing any additional plugins.
Are there tools to convert Figma designs directly into React code?
Yes, there are several tools available for this. Our article lists the top five tools to help designers turn their Figma creations into React code efficiently.