Automated Airtable Backup
Automated backups for Airtable. Secure your data today.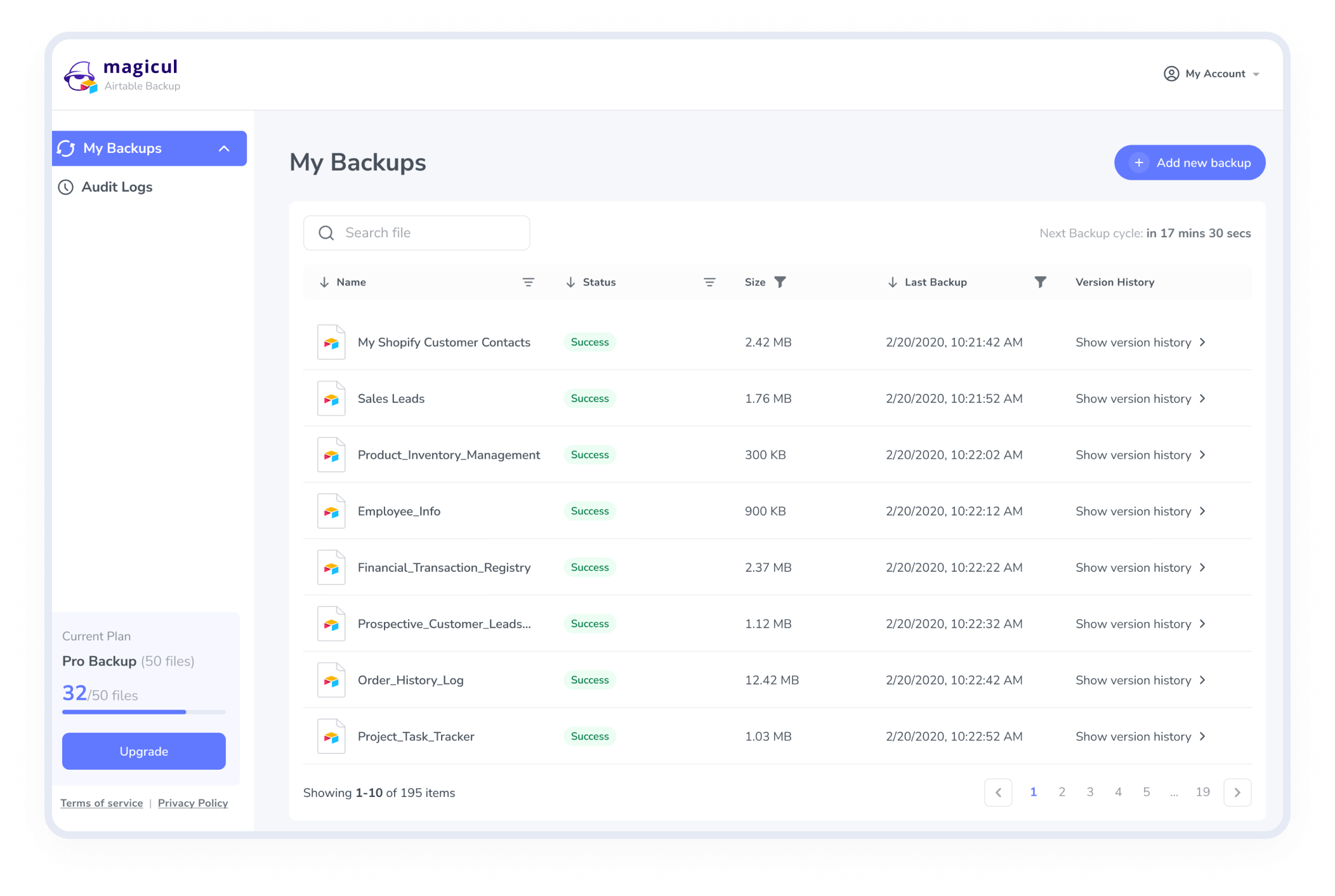 Used by over 4,000 companies and designers
Store your Airtable data under your terms
Avoid vendor lock-ins - Store your Airtable table data in independent formats

Automated conversion and storage into S3, Dropbox or Google Drive

Fully automated backup cycles every 24, 12 or 6 hours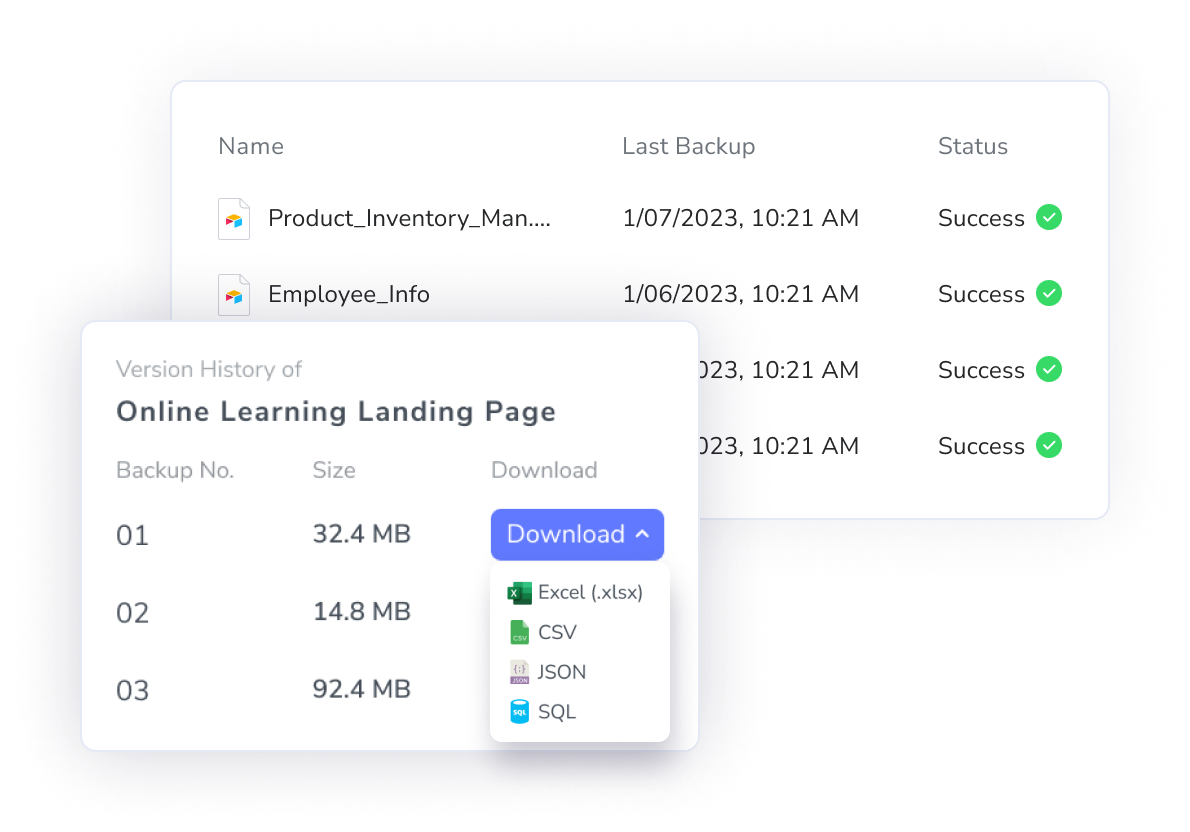 Store backups on your own storage
Store your files in our US or EU region or to your own S3 storage, FTP or many more...

All backups are stored fully encrypted to make sure your data is safe

Want to store your data somewhere else? Get in touch!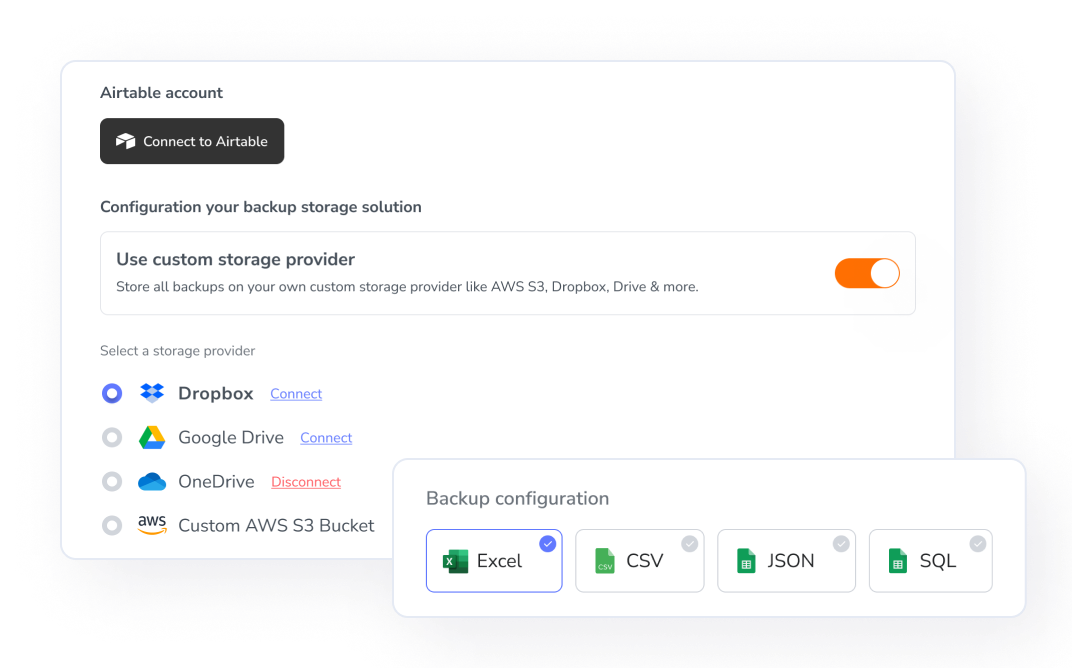 How does it work?
1. Authorize our Backup application to access your Airtable data

2. Directly backup your Airtable data with 1 click

3. Your tables will periodically back up, fully automated by fetching the data from the Airtable API
Try it out today
Backup a single Airtable for free to try our automated backup solution today.
Automated Backups for 1 Airtable for free

Sign up for one of our paid plans to backup multiple files
FAQs
Why do I need to backup my Airtable data?
Data inside of Airtable is secured by Airtable directly, that being said it is always a good idea to have backups outside of the hosting provider. In case someone accidentally deletes data or you want to migrate to another provider backups come in very handy.
How long are backups stored?
Backups are stored for 30, 90 or 180 days.
How do I restore a backup?
In order to restore an Airtable backup you can directly import the data as CSV, XLS or JSON.
Are my files stored securely and handled confidentially?
All backups are stored fully encrypted to make sure your data is safe. Your files are never shared with any third party. All the data you upload/provide is only accessible to members of our internal team with your permission. The rights of the data belong to you.
How long does a backup cycle take to complete?
Backup cycles take between 2 to up to 10 minutes depending on how big the Airtable table is.
Can I test the Airtable backup tool?
You can test our Airtable backup solution for free for up to one table.
Can I store backups in my own storage?
Yes, you can setup for your Airtable backups to be stored in your Amazon S3 bucket.
Start storing your Airtable data under your terms today.