Import Figma designs in Canva using our Canva Plugin
It's been a while since we've released a new product, but it's finally here. You can now use our Figma to Canva converter to import and convert Figma design directly into Canva.
The process of converting your Figma designs is very straight forward. In this tutorial we will go over the process step-by-step. You'll see how easy it is to import your Figma designs and directly use them in Canva.
So let's get started
Install our Figma to Canva Plugin
Before you get started make sure you're logged into your Canva account
Head over to Canva.com and log into your account.

Install the App from the Canva App Store
Head over the Canva App Marketplace and search for "Figma to Canva". You'll see our Figma to Canva Converter. Alternatively you can access the plugin directly using this link: Figma to Canva - Canva App Store

Simply click on "Use in new design" and then insert the size of the design in Figma that you'd like to import into Canva.

The Plugin is now installed
Confirm this by clicking on "Create new design". As you can see now the plugin is install and you're ready to import your Figma design into Canva.
Importing from Figma to Canva
Open your Figma design that you want to import in Canva.

Make sure that the Figma frame that you're trying to import has the exact same size as the Canva design you want to import it to. In our case that is 1800x900 pixels.

Copy the link to the exact Figma Frame. To this right click on the frame title on the Figma canvas. The select "Copy/Paste as" and then "Copy Link". NOTE: It's important that you only copy the link to a particular Figma frame, you can't import an entire Figma design.

Insert Link into Magicul Figma to Canva Plugin
It as easy as that. Simply paste the link into our Figma to Canva plugin and you're ready to start.
Hit the "Convert" button and you'll slowly see your content appear in Canva.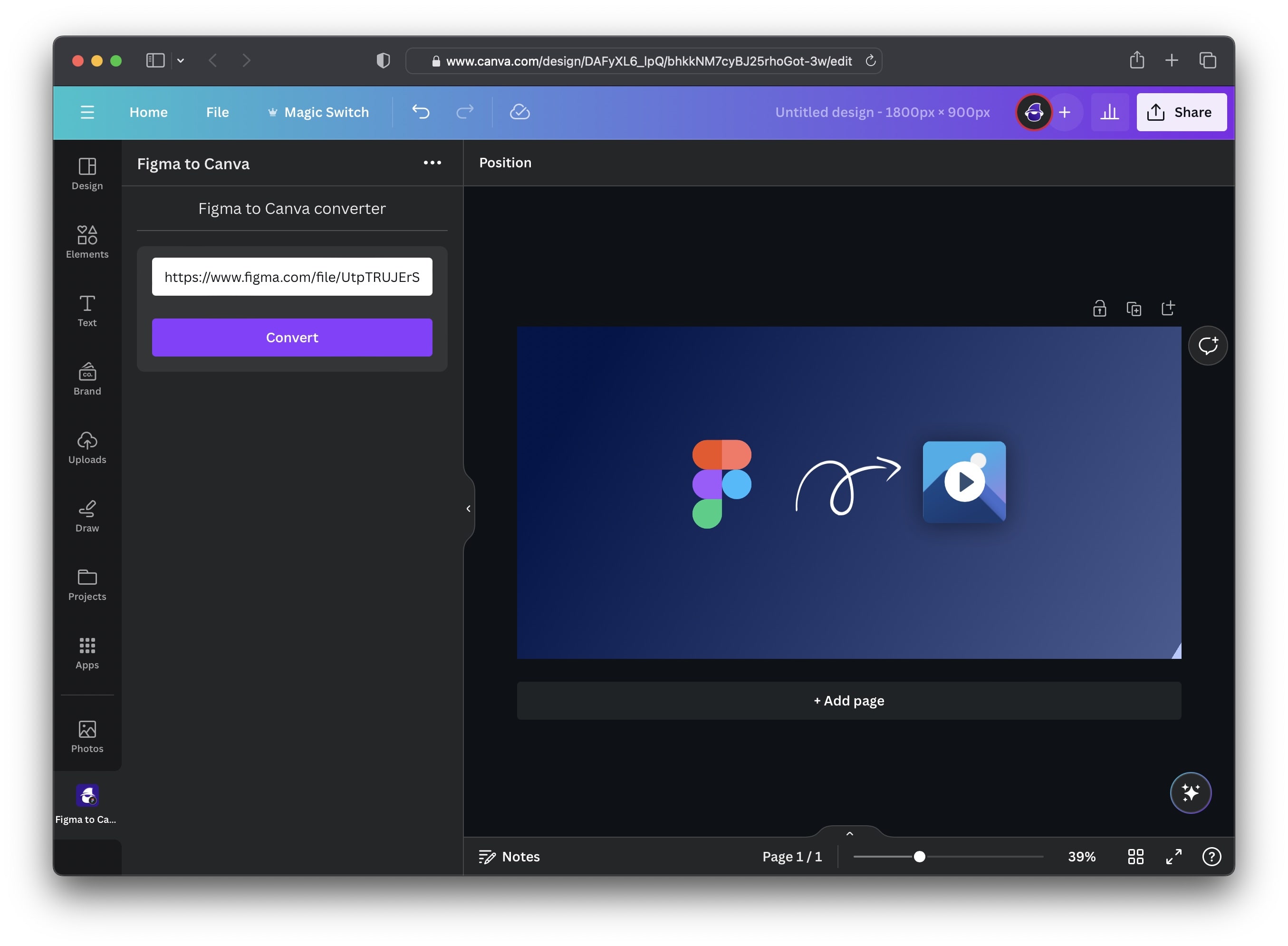 Want to import your Figma designs in Canva?
Start Now